8 tips to selling more on MotionElements
27 Apr 2023

2 Minutes to read
8 tips to selling more on MotionElements
Updated on 27 Apr 2023

2 Minutes to read
---
Share feedback
Thanks for sharing your feedback!
Here are some tips you can use to sell more on MotionElements.
1. Title
Give your stock content a clear, straight-forward title that best describes it. Let the buyers immediately understand what your stock content is about, and if they can use it in their projects. Avoid using generic and non-descriptive naming methods such as D7701593.
Some examples of good titles: Cinematic Slideshow (AE template), Epic Heroic (music), Working on touch pad (video), Fire frame HD (animation).
Tips for directory / file naming
You may name a subdirectory for easy grouping of your files.
Try to use an unique directory/filenames, as this makes it easier for metadata matching.
Try to use directory names that make sense, as directory names are also treated as keywords for searching.
When naming your directory/filenames, try to avoid characters such as #, [, ], *, or ?, as these will be renamed to "_" by our system.
Example of recommended filename: batch01/animal/happy-cat.mov
2. Metadata
Add as much details that you know about your stock content in the metadata – the format, required software version, license, resolution, etc. Pay special attention to the keywords. These input information will lead the buyers to your stock contents in a shorter period of time. It is recommended to tag a minimum of 6 keywords per stock content. There is a limit of 50 keywords per stock content.
Examples of keywords: intro, slideshow, trailer, wedding production, dynamic, fast opener, minimal, particle, glow, inspirational (music)
3. Preview photo
Set an appealing preview photo to attract buyers to enter your Element page. Find the photo that best represents the stock content and avoid using thumbnails that are blur or blank. You may also use your own customised preview photo specially designed to promote this stock content.
An example of preview photo selection: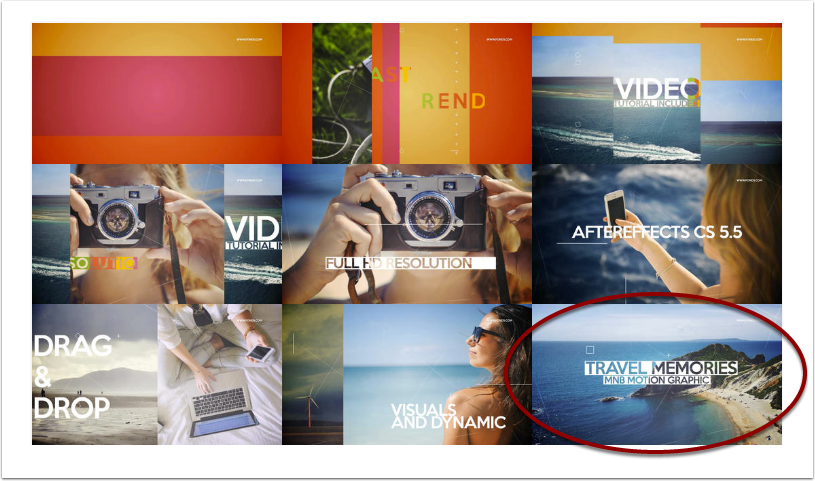 4. Description
Add some descriptive text to reveal more details about your stock content. If it is an AE template, add notes on music.
An example of stock content description:
5. Topics
One way of boosting sales is making stock contents on popular topics. Some topics are seasonal. For example, Christmas and New Year themed videos and templates are popular in November / December, while those of cherry blossoms are best rolled out before March. MotionElements will also feature seasonal themes on the main page banner with relevant Elements.
Examples of popular topics: wedding, corporate, logo, intro, infographics
6. Offer some Free stock contents
You can add free stock contents as well.
---
Was this article helpful?
---
What's Next