Earn free downloads with Invite A Friend Program
17 Feb 2023

2 Minutes to read
Earn free downloads with Invite A Friend Program
Updated on 17 Feb 2023

2 Minutes to read
---
Share feedback
Thanks for sharing your feedback!
The Invite A Friend Program is a MotionElements referral program that entitles you to 5 free downloads when you invite a friend to create a MotionElements account
You can invite a friend using your unique referral link or the MotionElements invite email. After your friend's account is approved, your free 5 downloads will be promptly credited to your account.
To invite a friend to join MotionElements, follow these steps:
Log in to your account.
Scroll down to the bottom footer of the MotionElements homepage.

Select Free Downloads. The Free Downloads page is displayed.
Scroll down to the Downloading Steps section.

Select Invite Now. The following dialog box is displayed.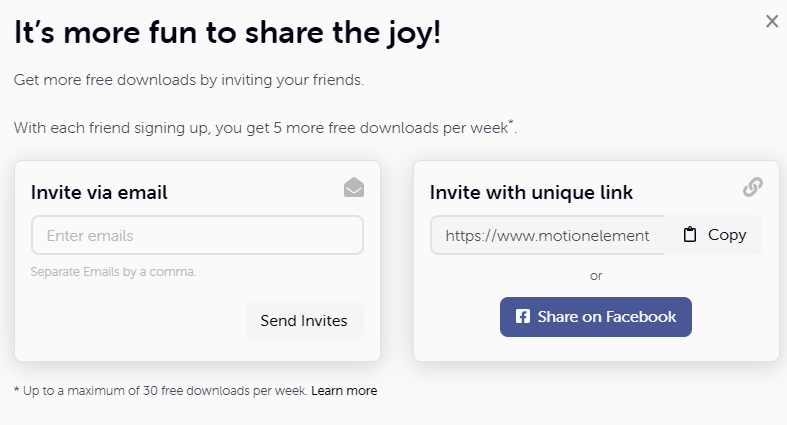 Invite a friend using any of the following methods:
Invite via email. Enter the email address of the person you want to invite in Enter emails field, and then select Send Invites. A success status message of your invite is displayed below the field.
Invite with unique link. Copy and send the link to the person you want to invite. You also have the option to directly share your unique link in your Facebook timeline. To do this, select Share on Facebook. A Facebook page will open in a new tab. Proceed as necessary.
Instruct your friend to create an account using your unique link or the registration link in the invite email they received.
Note: MotionElements reserves the right to suspend or terminate the Invite a Friend program or a user's right to avail the program at any time, for any reason. Unclaimed free stock content will be waived at this event.
FAQ
Who can I invite?

Anyone who is not yet a MotionElements member. The person must register with a different name, email address, and billing information (e.g. address, payment method) from you.

How should my friend sign up?

Your friend must create a MotionElements account using your unique link or the registration link in the invite email they receive.

How many free stock content do I get per referral?

One successful referral will entitle you to 5 free stock content, in addition to your weekly default 5 free content. However, note that you are subjected to a maximum limit of 30 free stock content per week.

How long does it take for me to receive my free stock content?

Your free stock content quota will be activated after your friend's account is approved.
After your friend creates an account in MotionElements, we will evaluate the registration.
This process will take around three to four working days. Once your friend's account is approved, MotionElements will notify you that you have been credited your free stock content from your referral.
---
Was this article helpful?
---