What is the APAC Marketplace Partners?
29 Aug 2023

1 Minute to read
What is the APAC Marketplace Partners?
Updated on 29 Aug 2023

1 Minute to read
---
Share feedback
Thanks for sharing your feedback!
The APAC Marketplace Partners program is an alternative avenue for our contributors to distribute and sell digital content to the Asia-Pacific region. MotionElements collaborates with reputable stock content distributors who will help adapt your content for local audiences, ensuring maximum appeal and engagement.
Among our first stock content distributors is Visual China Group (VCG) - a Beijing based stock content agency. Established in 2000, it is a supplier of stock multimedia content to the commercial media industry. VCG is currently the largest stock image and media footage provider in China and third largest in the world. Since 2006, VCG has been the exclusive distributor of Getty Images' library in China.
How does it work?
When you join the APAC Marketplace Partners Program, your content files will be shared with our partner stock content distributors. These distributors will then localize your content to better suit the preferences and needs of their local users. Your content will be sold through a non-exclusive sales model, granting customers a Royalty-Free License Agreement.
Getting paid
When people buy your content through this program, we'll pay you half (50%) of the money we receive from our partners, minus any applicable administrative fees. You'll receive your payments and can access your sales records between the 15th and 18th day of the fourth month following the sales date.
For example, if a sale occurs on May 5th, your payment and sales record will be available between September 15th and 18th of the same year.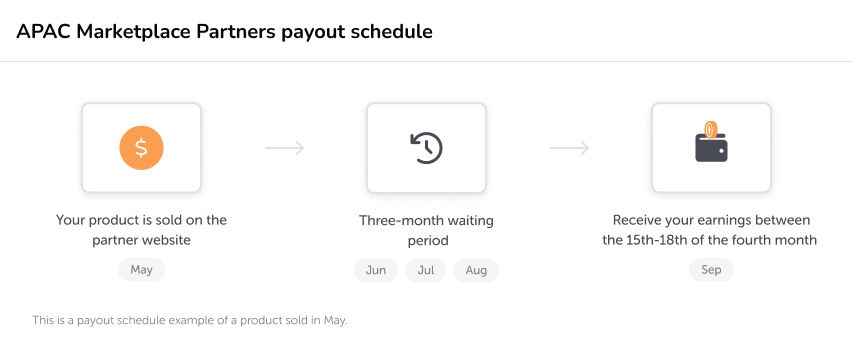 Opting out anytime
We understand that circumstances can change, and you might decide to opt out of the program. No worries – you have the flexibility to do so at any time. When you choose to opt out, we'll work with our partner stock content distributors to remove your content from their sites within the first two weeks of the upcoming quarter.
Ready to join?
Log in to your account and visit the Global Content+ Program & Add-ons page to review the full agreement and opt in.
---
Was this article helpful?
---
What's Next