AI-generated content guide
19 Jul 2023

1 Minute to read
AI-generated content guide
Updated on 19 Jul 2023

1 Minute to read
---
Share feedback
Thanks for sharing your feedback!
Here are our guidelines for AI-generated content submissions:
1. Tagging your AI-generated images:
Tagging your AI-generated content is an important step. You must mark your uploaded AI-generated content as AI-generated content through a category option provided in your edit product page dashboard. This ensures that it is properly classified and easily discoverable by our marketplace users.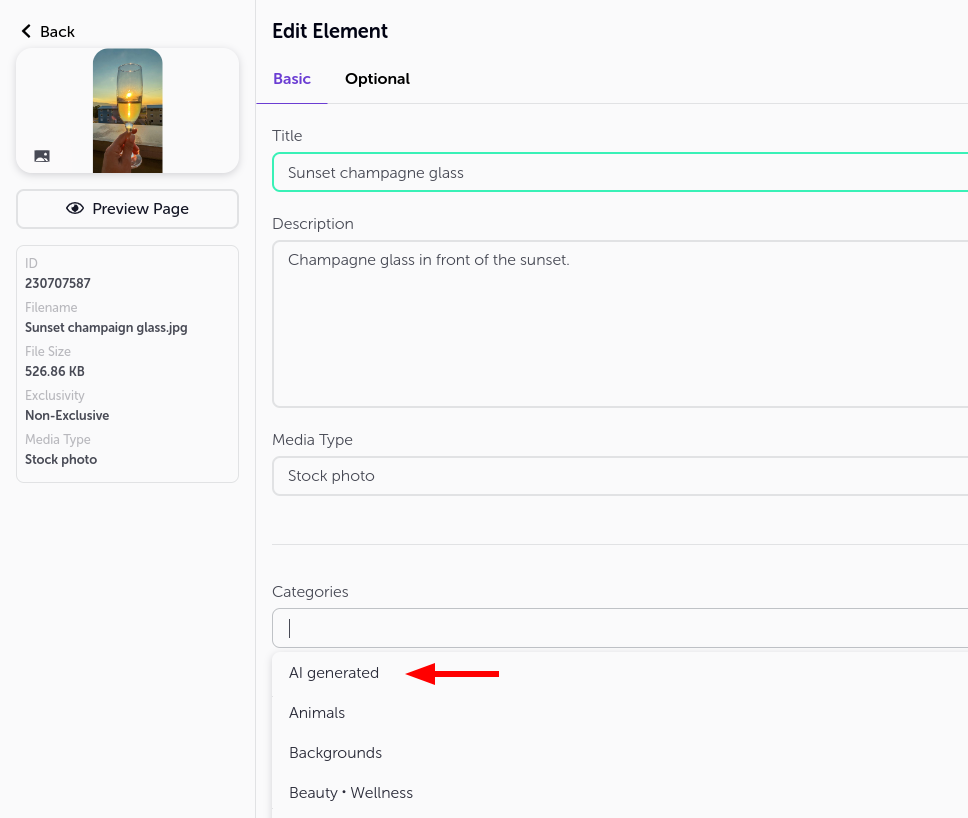 Note:
AI-generated content cannot be marked as 'for editorial use only' because editorial images typically feature newsworthy subjects such as events, public figures, political situations, cultural events, or social issues. They are usually used to support or illustrate a story or article and aim to provide an authentic representation of the subject or event.
2. Ownership and rights:
Ensure that you have all the necessary rights to license the AI-generated content. It is mandatory to have all the required permissions and comply with our terms and conditions.
Be sure to check that the AI content generation tools / plug-ins / extensions / models you are using explicitly grant you the necessary rights to license the generated content to another party.

Model and Property Release. If your AI-generated content depicts identifiable people, brands, trademarks, or properties, it is important to have the appropriate model or property releases in place to meet legal obligations.
3. Quality and creativity:
We expect high-quality AI-generated content that can bring a fresh and unique perspective to commercial projects. It should incorporate innovative styles, generate sensible yet visually striking compositions, and offer unconventional visual representations that catch the viewer's attention, meeting the evolving needs and preferences of clients.
4. Technical soundness:
Ensure that your AI-generated content is technically sound and free from flaws. Avoid issues such as artifacting, noise, pixelation, blurring, and loss of detail. If necessary, utilize image enhancement tools to improve the quality.
5. Avoid low-quality content:
Refrain from submitting low-quality AI-generated content that exhibits common flaws associated with AI. Examples include missing or additional elements, odd expressions, irrelevant objects, distorted items, incorrect sizes or ratios, watermarks, nonsensical text, nudity, glitch effects and inappropriate or offensive content.
By following these guidelines, you can sell your AI-generated content on our marketplace. Remember to always comply with our terms and conditions to provide a consistent experience for everyone involved.
---
Was this article helpful?
---
What's Next